AHEC Initiative
THE MISSION OF THE NORTHCENTRAL PENNSYLVANIA AREA HEALTH EDUCATION CENTER (AHEC) IS TO HELP COMMUNITIES MEET THEIR PRIMARY…
Learn More
Contact NCPA AHEC
AHEC North Central Region
About
Mission: To help communities meet their primary health care needs by facilitating recruitment, retention, education and training of providers of health care services.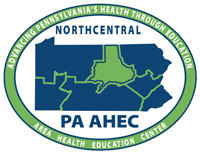 The Northcentral Pennsylvania Area Health Education Center (NC PA AHEC) is a 501(c)3 nonprofit. The organization is funded through State, Federal, and other grants.
Service-oriented staff and board members work together to improve healthcare access and build a quality healthcare workforce. We develop clinical and non-clinical health-related programs, collaborate with organizations, and advocate for access to quality health care in every community.
NCPA AHEC is part of the seven region Pennsylvania AHEC system. The NC PA AHEC serves ten counties: Centre, Clinton, Columbia, Lycoming, Mifflin, Montour, Northumberland, Snyder, Tioga and Union.